Episode 26: How to Have It All Without Going Crazy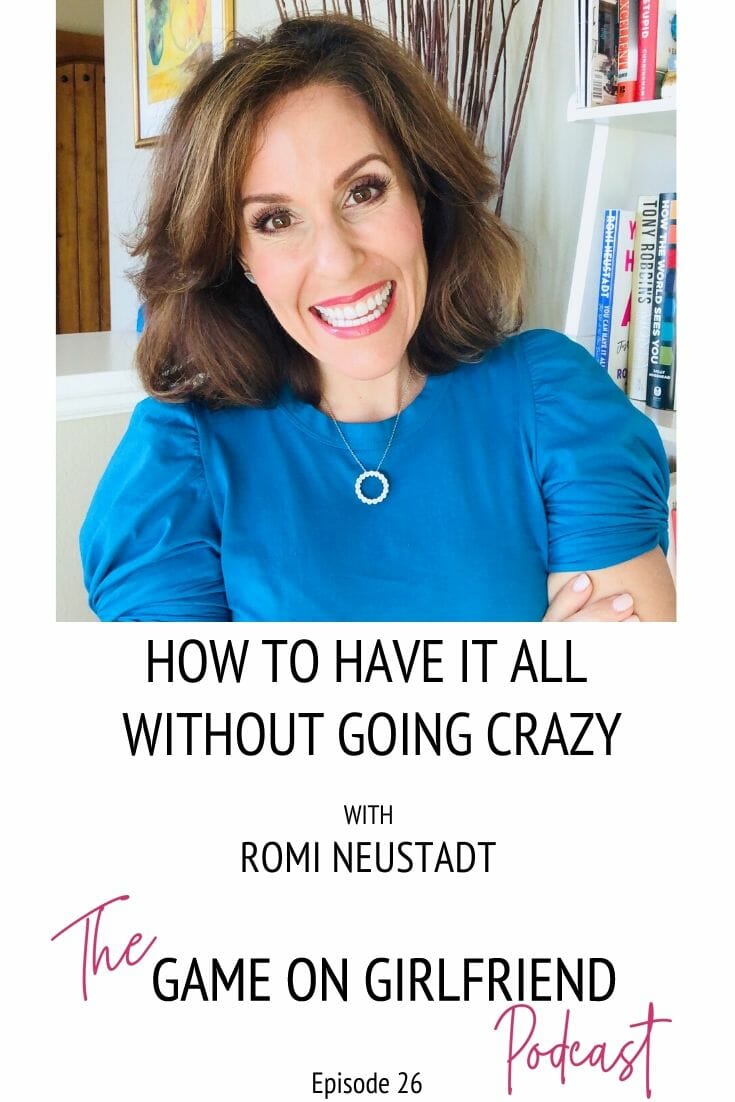 In this episode, I got to sit down with former corporate chick, Romi Neustadt.
Romi was first a lawyer, then a PR executive. She traded in the billable hour to become an entrepreneur, a business coach, and a speaker. She's figured out how to juggle being a wife, a mom, a professional success, and a healthy human. Without going crazy. (Which is pretty dang inspiring!) And she's on a mission to help other women do it too.
Her first book, Get Over Your Damn Self: The No-BS Blueprint to Building a Life-Changing Business received a GOLD AWARD from the Nonfiction Authors Association. Her latest book, You Can Have It All, Just Not at the Same Damn Time, was published earlier this year by Portfolio | Penguin Random House. Romi has been featured in Forbes, Inc., Fast Company and Success, and has appeared on Fox Business News and morning shows around the country.
In this episode, Romi will talk about how you can have it all without going crazy.
You will get to hear how honestly Romi answers her questions. For instance, she doesn't hide anything or pretend like life is perfect. And she doesn't expect anyone else to copy the way she's chosen to live her life. (Which I think is so important!) A lot of the time it can feel like we have to be exactly like the successful woman we to look up to. What makes Romi so different, is she is sure to say over and over, "Don't do this the way I did it. Find your own path. Your life doesn't have to look like my life." As women, we need to hear that message more often than not.
Romi gives us permission to not participate in that narrative. And I'm so grateful for her voice inside of our community for that reason.
Romi and I scheduled this interview months ago. Subsequently, it happened to fall right in the middle of the uprising after George Floyd's murder. So here we are, two white women, talking about our leadership roles, inspiring others, how we've achieved success, and what that looks like.
I love that we were able to talk about how we are feeling in this conversation. And how we're recognizing our own roles inside of this conversation. I was so excited when she offered to keep me accountable and for me to keep her accountable. And as a result, we keep this racial conversation going. That we continue to understand what our role is inside of this systemic racist society that we live in. Most importantly, how we can continue to use our own voices for change and for humanity.
In conclusion, I advise that you take away the parts that she talks about self-care, taking the time to understand your vision, and my favorite part, her one-word process!
I hope you enjoy listening! You can find out more about Romi HERE:
Link to book, You Can Have It All, Just Not At The Same Damn Time: https://amzn.to/3dEPRDz
Her website: RomiNeustadt.com
Facebook: @RomiNeustadtBiz
Instagram: @RomiNeustadt