Been looking for a friend in the business world?
Me too, let's kick some assets together!
My story is a long, juicy one. Click here for a quick intro...
Here's a little bit about me, so you know who the heck I am …
Like all good stories, mine starts with a little bit of trouble.
At 16, I learned: I can help my family, or have money ... but not both.
I was raised in a little town called Sandy, Utah, right outside of Salt Lake City. It was me, my little brother, and my single mom, who tried really hard but never had enough money. Of course, I was a larger-than-life kid with big dreams who loved dance and theater.
As a 16-year-old, I finally got the dance audition of my life. And I made the team. I had aspirations of traveling with the troupe, wearing fantastic costumes, and hearing the applause.
But then reality set in. I got a list of items I needed to purchase: the company jacket, the new shoes, the tights, the leotards. It was a long list, and ugh, we didn't have the money to pay for any of it. Reading that list was a punch in the gut.
Now you probably won't be shocked, but I refused to let my dream of being on the dance team fade away. So I got a job at the local mall (think: "Stranger Things") selling silly tchotchkes that no one needed.
I was going to get those dance costumes and jacket, come hell or high water. I'd even earned my first paycheck, which was enough for the deposit!
except...
With that first paycheck in hand, mom and little brother in tow, I headed to the grocery store to cash my check and finally make my dance dreams come true.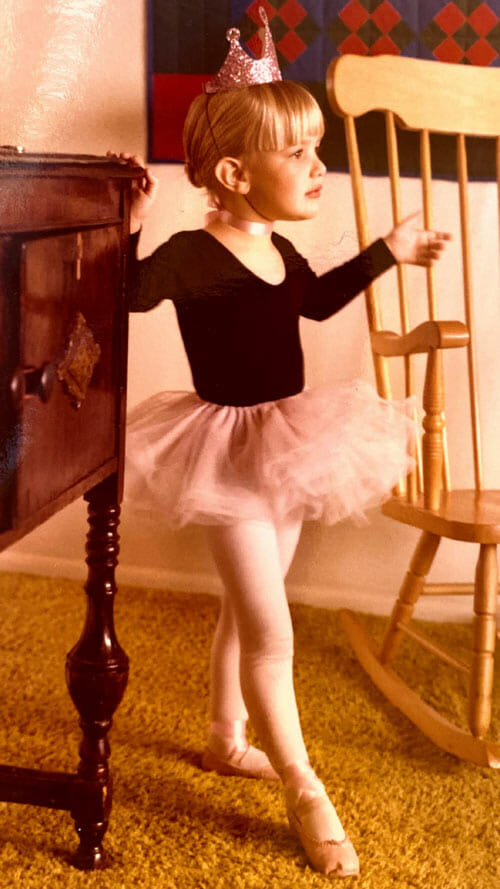 As we were walking into the store, my mom mentioned that the strawberries were on sale. She asked if we could use a bit of my paycheck to buy them.
Gulp. Of course. So my mom and brother headed off to get the strawberries while I waited in line to cash my check. I finally reached the head of the line and had my money in my hands! It was real. I was so proud.
Then I went to find my mom, and my stomach sank.
She and my brother had a cart full of groceries that I knew my mom couldn't afford: my brother's favorite breakfast cereal, some milk, cold cuts and bread for his lunches, and, of course, the strawberries.
I stood there, mouth dry, palms sweating.
I could either pay for those groceries, or buy my costume. But I couldn't do both.
At 16, I'd decided that that's just how life is, especially for women.
I could either pay for what I wanted, or take care of my family.
But I couldn't do both. (Catch the mantra I had going on there?)
As you can imagine, I headed out of Utah at the first chance I got.
First stop: UCLA, where I studied English and graduated with honors.
From there, I moved to France. I spent an entire year just outside of a town called Nimes, a town so tiny even the French don't know it. While indulging my inner Francophile — the language, clothes, food, and lifestyle — I worked on housing for people experiencing homelessness and with children with learning disabilities.
Of course, all good things must come to an end, so I headed to my favorite city on Earth …

With a dream to succeed and $200 in my pocket, I moved to New York City with visions of Doris Day and Mary Tyler Moore in my head. I wanted to be a woman in the city with an exciting job, a cute apartment and "Sex and the City" shoes.
A temp position at a bank led to my full-time job on the tech support desk, supporting hedge fund analysts with their trading software.
(Looking back, I can't even imagine!)
Next, I moved to Lifetime Television in their new media department.
I was a web developer who took beautiful designs from the creative team and turned them into web pages.
Fun fact: I worked on the site for "Strong Medicine" starring Rosa Blasi.
Ten years later, her sister Tasha Blasi hired me as her coach, and we worked together to create her business supporting women going through IVF. We loved figuring that out — 6 degrees, small world, and all that!
From there, I left for a start-up you've never heard of, creating a huge mindset shift that would slowly change my life.

Do you know how they say the five people you spend the most time with determine your future? Well, mine got a major upgrade when I met Marianne Williamson while working at iAmplify. Being with her in the recording studio while working on her program "The Miracle Matrix" and listening to her teach about love and fear was a lightning rod moment.
She was talking about something way beyond what I normally understood. She tapped into a world of possibility, accountability, and choice. I also hosted her monthly calls with fans and worked on her website. Watching her and working with her planted the seeds for creating a career around teaching and coaching.
But it wasn't yet the time for harvest.

When iAmplify wasn't a great fit anymore (thanks, iTunes), I again found myself changing jobs. I landed at IAC, whose slogan is We Build Brands. It's home to over 150 brands and products millions of people use.
One of the greatest stories around the water cooler was the legend of Vimeo, an IAC company that had been sold by the time I got there.
I loved listening to the stories about how that Vimeo team grew their community, the mistakes and lessons learned, and mostly the grit! The path to success is never a straight line, and I loved hearing about how they hung on when it wasn't perfect and how they developed the community and used tech in a whole new way.
This was another on-the-job learning that I'd use later.
At this point, I should have been so proud of myself for the career I'd created. I'd gotten the apartment, complete with a full bed in the living room (ah, Manhattan living) and the Manolos, though, to be honest, I prefer Jimmy Choo.
Anyway, I'd worked at notable companies with amazing people and brands. I had gotten married and had a son and a daughter. I was responsible for a P&L worth $130 million. I was living the good life.
But something wasn't right.
One day, a strange thing happened while I was sitting in my gorgeous corner office.
I paused what I was doing. I could hear the tick, tick, tick of the clock on the wall, and a single leaf from my ficus tree began to fall toward the floor. It was out of a movie, the way the leaf fell against the backdrop of the tick, tick, tick — real Edgar Allen Poe style.
And I realized something.
This was NOT why I was alive. I wasn't put on this planet to work on spreadsheets and branding statements and making decisions based on shareholder expectations.
I missed my kids. I missed having dreams of my own. I was sick of commuting. And I couldn't take it another minute.
So I stood up, walked into my boss's office, and quit.
Without a plan or a goal, I was finally free. And I was heading toward something new.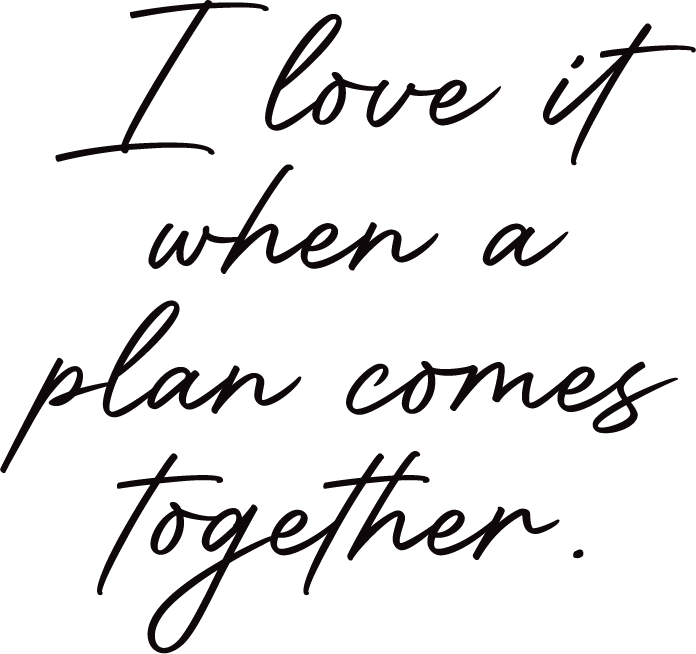 So, I started a media company.
With all the skills and wisdom I'd gained, I knew how to build an audience and create content that turned them into raving fans. I also knew that moms were being pandered to, and I wanted to tell the truth about how hard it is to get out of the golden handcuffs of corporate America.
Better Way Moms began as an online magazine, and I did ALL. THE. THINGS. I wrote the articles, pitched advertisers, and built the website — all of it. Finally, the skills earned in all my previous jobs came together, from running a startup (iAmplify) to understanding operating costs (ICA) and running teams (iVillage). I used everything I'd learned.

Better Way Moms quickly turned into a book, Redefining Success, and a live experience, the Redefining Success Event, which I hosted around the country with panels of successful women telling the truth about what it really takes to succeed and how important it is to define success for ourselves.
This led to more speaking engagements at Morgan Stanley, Women for Women, Savor the Success, and others, along with media features on the Today Show, Buzzfeed, and Huffington Post.
Each step on the business journey was like scaling a mountain. I hadn't been to business school. I'd been to the school of Hard Knocks instead. Everything felt new. And it was difficult.
Fortunately, the business grew and grew and evolved. I began to help women like Tasha Blasi figure out how to package and sell their expertise. And that's when my soul lit up with my true calling.
I didn't want any woman to live on crumbs like my mom had. Or have to choose between caring for their family or living joyfully, as I did at 16.
Just kidding - I brought my own.
Now, I help overcome their fear of sales and uncertainty about taking the next step in their business through coaching, group programs, and my Game on Girlfriend Podcast.
When a woman creates a business she loves and shares her talents and joy with the world, we all win.
Ready to see how we can work together?
Book a call and look at your next best steps in growing your business.
Freedom in your business is here!

Make the revenue that allows you to exhale.
Download my FREEDOM CALCULATOR and discover how much your business needs to make so you can finally be FREE.